The
Power
to Move Australia
*Discontinued* MPPT30-1 / MPPT30-2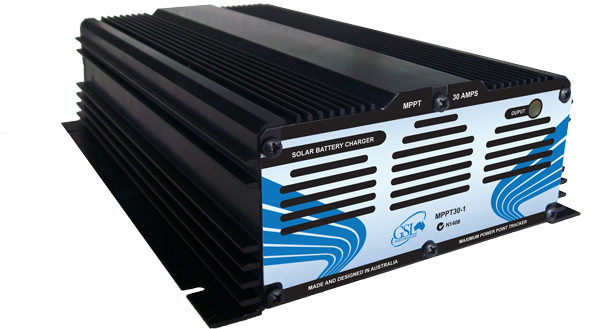 End of Life Product- Information below for archival purposes only. No new orders will be taken for these products.
Maximum Output 30 Amp / 900 Watts

MPPT30-1:

• Ideal for charging batteries with new low
cost and high efficiency grid type panels
• Simple 3 wire "plug and play" connection
• Autoselect for 12V or 24V panels and batteries
• Tri-chemistry Vented, SLA and Lithium
• Now with the ability to parallel multiple units on the output for increased charge current


MPPT30-1 Installation Sheet

MPPT30-2:

Additional features for the more advanced user:

• Built in load switch configurable as a variable dawn
to dusk or low voltage disconnect
• Remote load control option and alarm
• Low voltage discontent
• Surge, PV short and reverse current protection
• Connectivity to the MCM product for Remote Monitoring and Control


MPPT30-2 Installation Sheet




Specifications

MPPT30-1

MPPT30-2

Maximum Output Current

30A

30A

Maximum Input Panel Power

900W with 24V batteries
450W with 12V batteries

900W with 24V batteries
450W with 12V batteries

Input Voltage

18V to 84V

18V to 84V

Battery Voltage

12V / 24V


12 V / 24V or programmable 5V - 58V via MCM and GUI

Typical Efficiency

97%

97%

Monitoring & Control

-

Yes (full via MCM)

Dawn to Dusk, LVD

or Remote Control

-

Yes programmable and enabled via MCM

PV Short and Surge Protection

-

Yes

Thermal Protection

Yes

Yes

Dimensions [LxWxH]

175 x 177 x 67 mm

175 x 177 x 67 mm

Design and specifications may change without notice.